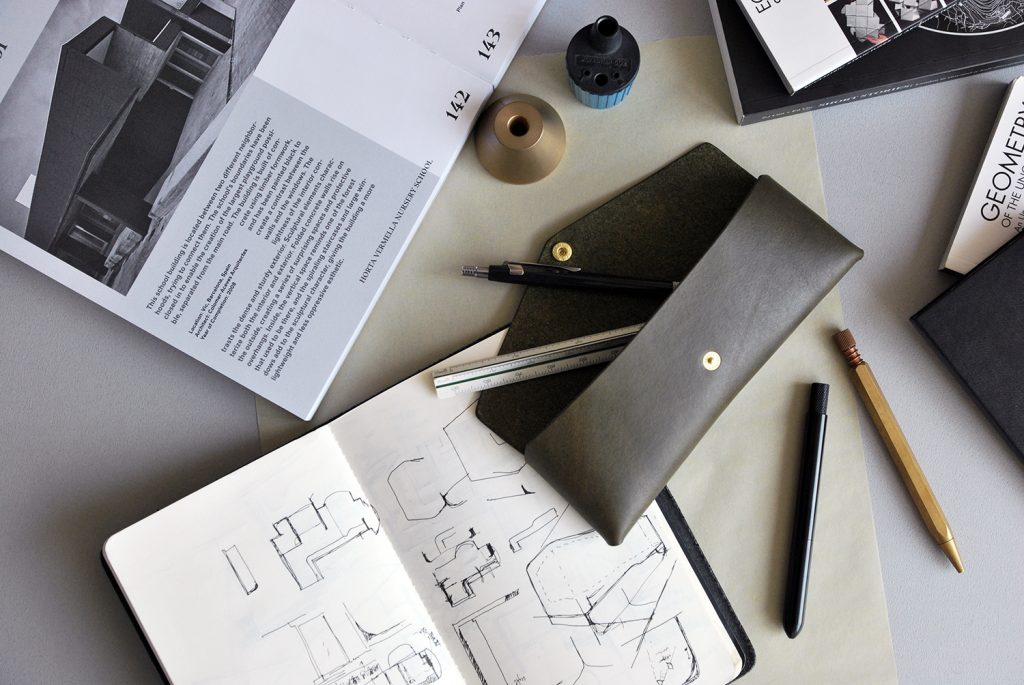 PEN CASE 極簡小筆袋・OLIVE GREEN橄欖綠
"容器",無時無刻存在於生活中的每個層面。恰到好處的容量設計也許比能裝多少就裝多少的想法更適合在這個物質慾望過剩的年代。對設計師而言,每一件放進筆袋的文具都像是工作或生活中不可或缺的最佳夥伴,是刻意挑選過的。因此在被刻意設計的有限空間中,真正需要放進筆袋的東西還有哪些呢? 我們相信在這去蕪存菁之後的內容也展現了每位設計師或使用者獨特的創作特質與品味。
筆袋細長型的比例恰好符合手掌微握的弧線厚度,而長度也恰好可放入剛開始使用的全新18cm鉛筆。藉由一片完整皮面翻折過後所撐起的自然空間厚度,也能夠放入比例尺或美工刀等較有厚度的建築人隨身三寶。讓極簡小筆袋保護每個設計人所珍惜的創作工具。
筆袋皮料採用歐洲植物鞣牛皮製作,刻意呈現皮革的天然紋理與溫潤厚重手感。隨著使用的時間累積,皮革表面將會呈現獨有的光澤質感。並同時搭配極簡純銅金屬釦件,提升整體質感。
尺寸:W20 x H7 x D2.5 cm
材質:歐洲植鞣牛皮、黃銅釦件
顏色:橄欖綠
設計/產地:台灣
原料來源:歐洲、台灣
配件:防塵套一只、收納盒一組
售價:NTD 1480
"Containers" exist in every aspect of life. The right capacity design may be more suitable in this era of excess materialism than the idea of ​​loading as many as you can. To the designer, every stationery put in a pencil case is like the best indispensable partner in work or life, which is deliberately selected. Therefore, in the limited space, what else really needs to be put into the pencil case? We believe that the content after deliberately selection will show the unique creative characteristics and taste of each designer or user.
The proportion of the slender shape of the pencil bag exactly matches shape of palm, and the length is just enough to fit the new 18cm pencil just used. With the thickness of the natural space propped up after folding a complete leather surface, it can put the architectural treasures such as scale or knives. Let the pen case protect the creative tools that every designer cherishes.
The pen case leather is made by European vegetable-tanned cowhide leather, which deliberately presents the leather's natural and warm texture. Over time, the leather surface will have a unique shiny. And with brass fasteners to improve the overall texture.
Size: W20 x H7 x D2.5 cm
Material: European Vegetable Tanned Cowhide, Brass Fasteners
Color: Olive green
Design/Made: Taiwan
Source: Europe, Taiwan
Accessories: Dust Cover X1, Box X1
Price: NTD1480