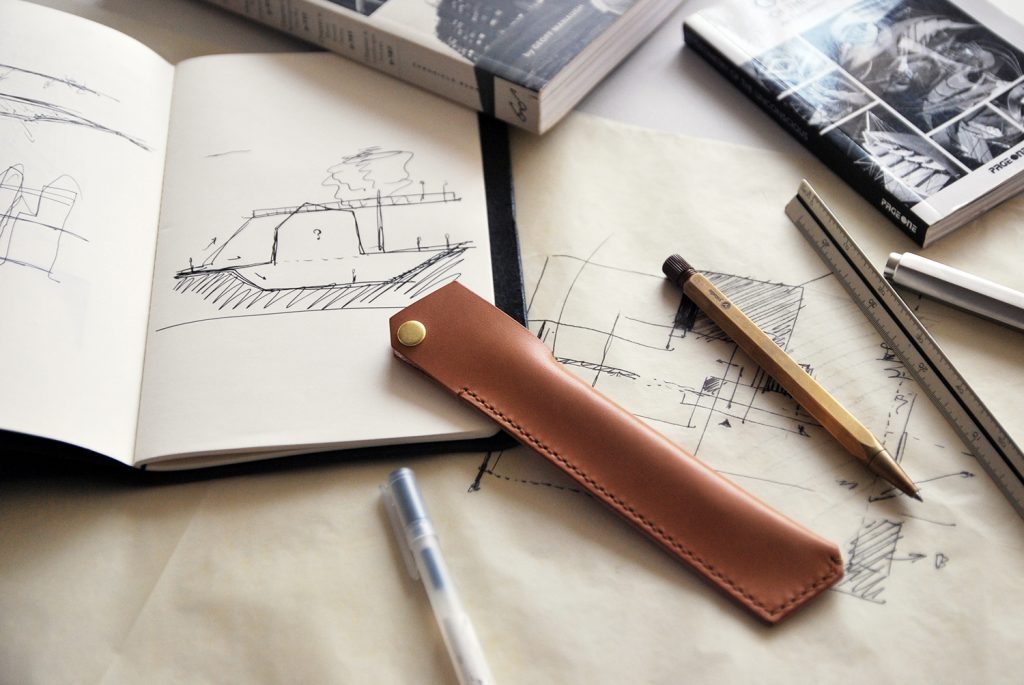 SINGLE PEN CASE 幾何線筆套・BROWN棕
在創作發想時我們喜歡回到最開始的書寫與繪畫方式,有意無意的塗塗寫寫正慢慢累積各種可能與過程。一支好書寫且重心恰當的筆,對我們而言是相當重要的,而我們相信這樣的筆也一直是設計師與創作者們的最愛。因此,為自己喜愛的筆找一個適當的家就成為筆套必須要被設計出來的理由。

有別於以往筆套的圓弧外型,在這款筆套設計時,透過簡潔俐落的切線削出兩端非對秤的幾何造型來刻意強調小物件的視覺張力,在還未拿出筆時,手握的筆套已成為所有人的視覺焦點。

筆套皮料採用歐洲植物鞣牛皮製作,刻意呈現皮革的天然紋理與溫潤厚重手感。隨著使用的時間累積,皮革表面將會呈現獨有的光澤質感。並同時搭配極簡純銅金屬釦件,提升整體質感。
     W18 x H3.2 x D1 cm (最大可裝直徑1.1cm筆寬)
     W18 x H3.7 x D1 cm (最大可裝直徑1.6cm筆寬)
材質:歐洲植鞣牛皮、黃銅釦件、蠟線
設計/產地:台灣
原料來源:歐洲、台灣
配件:防塵套一只、收納盒一組
售價:NTD 990 
We like to go back to the original way of writing and drawing when we think of creation, which accumulates various possibilities and processes. A good pen with great texture is very important to us, and we believe that this pen has always been a favorite of designers and creators. Therefore, finding a proper home for your favorite pen is the reason why the pen case must be designed.

Different from the arc shape of the former pen case, in the design of this pen case, the visual tension of small objects is deliberately emphasized by cutting out the geometric shapes of the opposite ends through simple and neat tangent lines. The pen case hold in hand will become the visual focus of everyone.

The single pen case leather is made by European vegetable-tanned cowhide leather, which deliberately presents the leather's natural and warm texture. Over time, the leather surface will have a unique shiny. And with brass fasteners to improve the overall texture.
Size: Two Types
W18 x H3.2 x D1 cm (Maximum Pen Diameter 1.1cm)
W18 x H3.7 x D1 cm (Maximum Pen Diameter 1.6cm)
Material: European Vegetable Tanned Cowhide, Brass Fasteners, Wax String
Color: Brown
Design/Made: Taiwan
Source: Europe, Taiwan
Accessories: Dust Cover X1, Box X1
Price: NTD 990